---
---
Why is Ringly™ the most popular summer game of 2021?
Everyone knows this situation: you're sitting at home or with family or friends and you're missing that certain something, something that's really fun again and puts you in a priceless good mood.

The console is not always the best solution and complicated board games are usually too costly.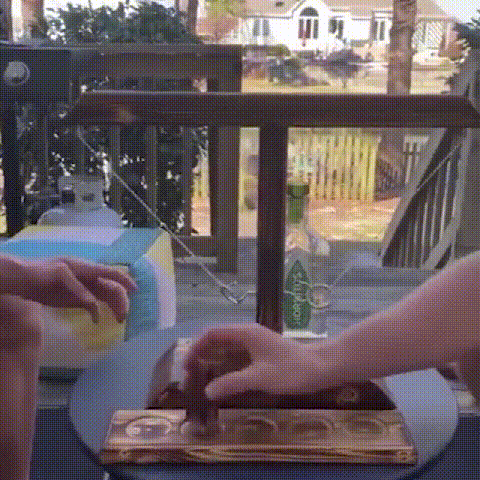 But then why play Ringly™?

Imagine you can set up something in a few moments that will give you hours of fun without getting bored?

These are exactly the two points we have taken into account with the MahinaRingly™. The child's play design & simple rules allow anyone to participate in the game!

Now imagine having priceless fun moments with the whole family or friends thanks to MahinaRingly™. The good times spent together will always be remembered.

Is MahinaRingly™ really fun for everyone?
MahinaRingly™ can be optimal for children as it promotes & supports the elementary important hand-eye coordination, this promotes general development and entertains your children without any display!

For adults, MahinaRingly™ brings further benefits as priceless fun & enjoyable moments! Adults can simply replace the wooden figurine with a cup and off they go! Whoever gets the cup first has to drink it. It is ingenious!

Advantages thanks to the high-quality real wood.
MahinaRingly™ is processed with love to the detail and thus guarantees the necessary stability. In addition, the processed wood feels extremely supple.
Your advantages with the MahinaRingly™ 
Experience priceless moments with family & friends
Simple to assemble & easy to understand rules

Can be taken anywhere
Promotes hand-eye coordination

Risk-free testing with a satisfaction guarantee

We & thousands of other customers are so convinced of the game that we offer a satisfaction guarantee. If you are not satisfied with the MahinaRingly™ you can always contact our customer service at Service@mahinashop.com and we are guaranteed to find a customer-friendly solution.

Shipping 

Every order is shipped with free & insured shipping. In addition, each order will receive a unique tracking number. MahinaRingly™ will be delivered directly to your doorstep.



---
A very exciting game always brings me Funny evenings with my friends!
Now not only the grandchildren but also I am busy. Great solution.
Top processing makes super much fun.
My kids play it so often they seem to really like it
The game is well made and is a lot of fun!